Trade Magazines for Medical Professionals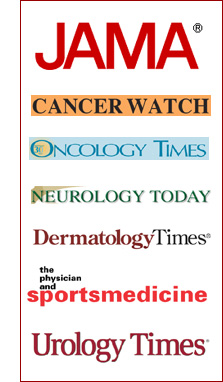 I write for a variety of professional trade publications, both in print and online. I cover several major medical meetings each year on such topics as cancer, hematology, and liver diseases, writing both short news items and longer features.
The main source for the Oncology Times article, Kanti Rai, MD, Professor of Medicine at Albert Einstein College of Medicine in Bronx, NY, sent the following note to my editor, Serena Stockwell, after this article appeared in print:

"The reporting by Mark Fuerst on my presentation 6 weeks ago at The Chemotherapy Foundation Symposium, in my opinion, is first-rate. Mark has brought out all the important points that I wanted to emphasize and he has done it in a most readable, clear and interesting way, and without exaggerating anything. Please do me a favor, and let Mark know that I appreciate his writing and wish that other writers would be as accurate and clear and yet interesting."
Pharmacy Practice News

Pharmacy Times

Physician's Financial News

The Physician & Sportsmedicine

Physician's Weekly

Primary Care and Cancer

Primary Psychiatry

Psychiatric Times

Renal & Urology News

Sexual Medicine Today

Sports Medicine Digest

Urology Times
I spent 3½ years as a staff writer for
Medical World News
from 1976–1980, and was a contributing writer for
MWN
from 1980–1988. I also worked at
Medical Tribune
as the editor of two magazines,
Therapeia
and
Sexual Medicine Today,
from 1980–1982.